How to use Lactamo
Lactamo is here to help with common breastfeeding issues including engorgement, blocked milk ducts, mastitis, milk supply (low milk supply and oversupply), and the let-down reflex. You can even use it before problems begin to proactively keep them at bay. Yay for that!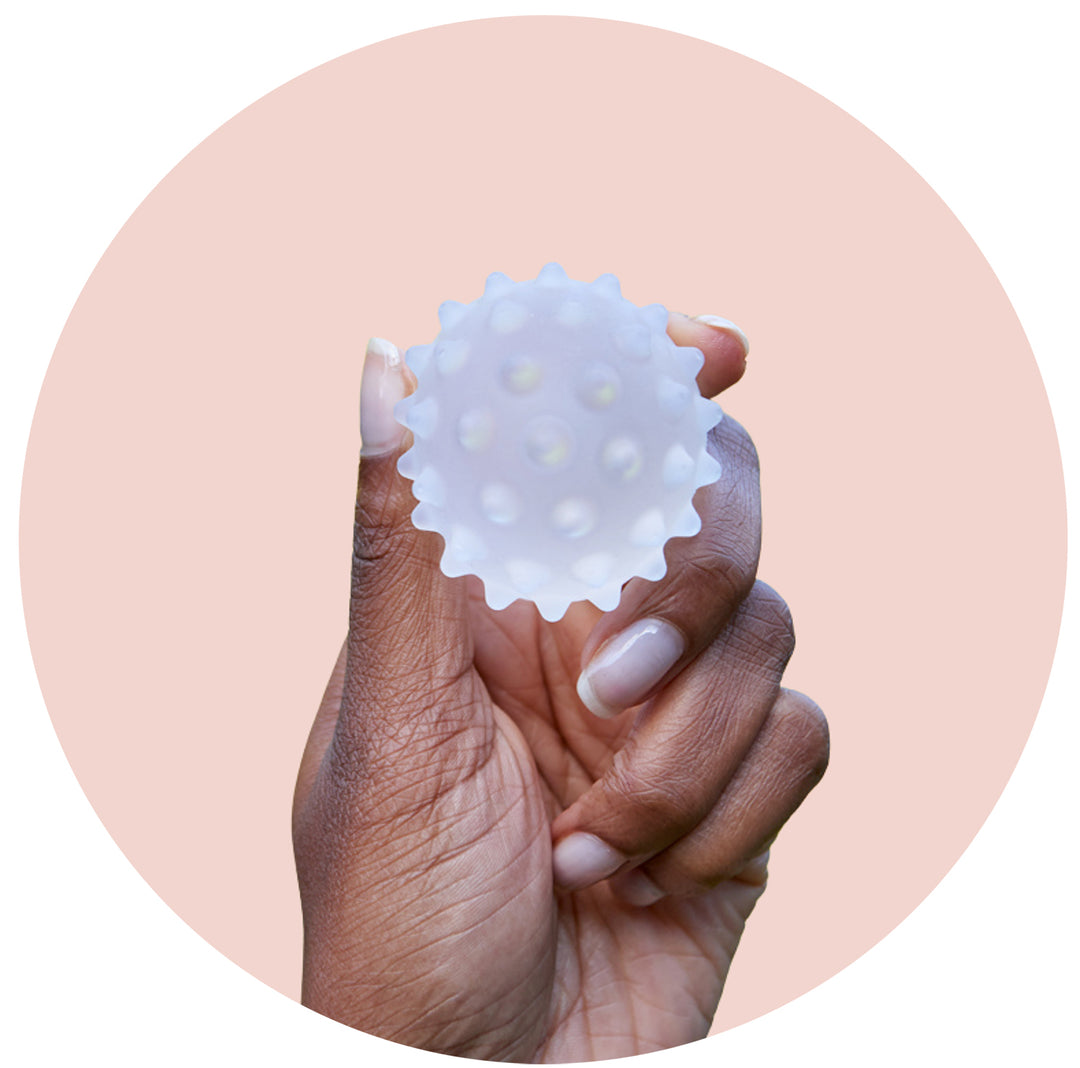 How does Lactamo work?
Lactamo has been specially designed with every breastfeeding mama's individual needs in mind. Lactamo is covered in a mix of solid and hollow lumps, some larger, some smaller, allowing you to find the right firmness and pattern of movement to help your personal breastfeeding needs. And because all breasts need to be treated with care, Lactamo's (medical grade) silicone outer and gel inside are super-duper soft, even after they've been chilled in the freezer.
What do you do with a Lactamo?
Warm your Lactamo in a cup of hot water, grab it straight from the freezer, or use it at room temperature (depending on your needs) to gently massage your breasts before, during or after breastfeeding or pumping. This breastfeeding ball is super versatile and feels as soft as a marshmallow on your breasts. You can even use it in the shower. No more warm wash cloths, ice packs or cabbage leaves for your boobs! Follow our simple Lactamo breast massage tips to address problems like engorgement, blocked milk ducts, mastitis, milk supply (low milk supply and oversupply) and the let-down reflex.  
Flexible design
Your breastfeeding needs will change as your baby grows, which is where Lactamo's versatile design comes in handy. With different textures and levels of firmness across Lactamo's surface, you can get a feel for which ones suit you best. 
From oh-so-tender postpartum breasts to navigating a new feeding routine, Lactamo is here to support you during those sensitive times (and all the way through your entire breastfeeding journey).   
Safe and sound
We're not a fan of nasties (and we know you're not either), which is why the outside of Lactamo is crafted from 100% medical grade silicone and we've used a non-toxic gel (a common food additive) inside. Rest assured, Lactamo is included in the Australian Register of Therapeutic Goods (371782) as a Class 1 Medical Device. After all, nothing is more important than your and your baby's health and safety.
Why Lactamo?
We think Lactamo is the best thing since sliced bread for breastfeeding mamas, and we're not the only ones. Our 100% Australian designed and developed breastfeeding ball has picked up a slew of awards and glowing reviews from lactation consultants. Thanks folks!  
Lactamo is included in the ARTG (#371782) as a Class I medical device.
Lactamo has international patent protection (AU 2019 313159, CN 2019 80056109.8, EP 19843406.0,
IN 2021147005095, US 17/264,374), and Trademark protection (AU 2162963 and 2162963).